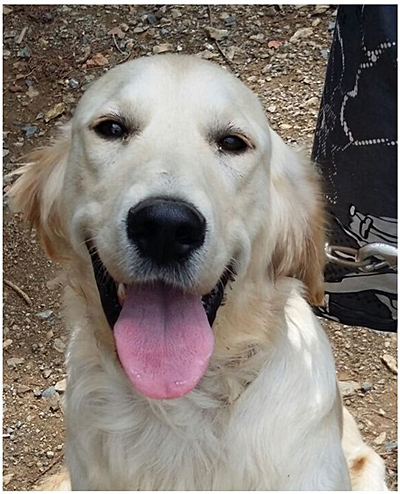 Dogs in Istanbul, Turkey
In May 2015 GRRAND joined 18 other rescue organizations in its first international rescue, welcoming 5 golden retrievers from Istanbul, Turkey. Golden puppies are a symbol of status in Turkish culture, but when fully grown many are abandoned by their families and turned out into the streets to fend for themselves. Thousands of dogs are released to the streets each year. Shelters cannot keep them; so, they are caught, spayed/neutered, tagged, and returned to the streets to fight for food and their very lives.
To date, 19 of these dogs from Turkey have arrived via cargo plane in Chicago, IL. GRRAND volunteers drove to Chicago 3 separate times to bring them home. We are proud to say that all the dogs have been adopted into loving homes.
Pictured Left:  GRRAND Turkey Dog, Autumn
Asian Meat Trade Dogs
The dog meat trade is most widespread in China, South Korea, the Philippines, Thailand, Laos, Viet Nam, Cambodia, Indonesia, and Nagaland in northern India. This trade is well-organized, with high numbers of dogs (including pets) being stolen or taken from the streets, transported in deplorable conditions over long distances, and brutally slaughtered. It is estimated that in China alone, millions of dogs are slaughtered for the dog meat trade each year. As a rescue organization with an unwavering mission to save dogs, GRRAND feels privileged to participate in the liberation of these goldens, but our hearts are heavy for the thousands of other dogs left behind to be slaughtered. To date we have rescued five Asian golden retrievers, and all of them have been placed in loving homes. The cost to rescue these precious dogs from sure death, restore their health, and prepare them for a loving family is approximately $1,500 to $2,000 per dog. Your donations enable GRRAND to continue in this humane effort!