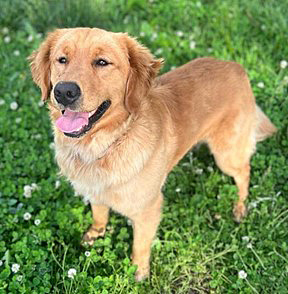 Giving Tuesday is a global generosity movement that unleashes the power of people and organizations to transform their communities and their world. Once again, GRRAND is participating in this fundraiser and we're hoping that you will donate as well. Please share GRRAND's mission and needs with others on social media. Our goal this year is to raise $8000 to help dogs like Andy.
Andy's story is a sad one. He and his family's 8-year-old Dobermann were poisoned while they were in their family's backyard, and the culprit was never found. The 8-year-old Dobermann died as a result, and Andy suffered a stroke that has left him with serious mobility challenges. His wonderful family has been so supportive of Andy after this terrible incident, but they are now looking for a new home for Andy as they have done all they can to help in his recovery. He has trouble walking, although he has improved tremendously, he staggers and falls a lot and needs assistance getting down steps, eating, and drinking. He shakes a lot and resembles someone with Parkinson's disease. This is so sad for Andy.
GRRAND is going to do what they can to help Andy.  Please help us help Andy!