GRRAND Tails Rest of the Story September 2023
Click the links below to jump to a section of the page!
Petco Love Stories
Petco Love Stories celebrates — and returns — the love that we share with our pets. Since 2013, more than 20,000 adopters have shared how pets have changed their lives, and Petco Love has awarded nearly $7 million in grants to the animal welfare organizations that make these adoption matches possible.
Did you adopt a pet from GRRAND who changed your life? Maybe your dog is the travel and adventure buddy who inspired you to finally see the world.  Petco Love invites you to share your Love Story and you can help GRRAND earn a lifesaving grant – up to $100,000!
The campaign's winning tales will receive lifesaving grants for the organizations the pets were adopted from thanks to Petco Love and BOBS from Skechers™. This year on Valentine's Day, Petco Love and BOBS from Skechers™ awarded Love Stories winners at 18 organizations across the country, granting a total of more than $500,000 to animal welfare partners.
Petco Love Stories encourages pet parents to share their personal stories of love, joy, and transformation that have come about through adopting their best friend. Whether they are stories of resilience, acts of kindness, or compassion – Petco Love wants to hear them all!
Submissions for Petco Love Stories are open to individuals 18 years and older, or those who have parental consent to share their story. In 500 words or less, please share your love story and photos of you and your adopted pet from GRRAND.  Your pet must be currently living.  Submit your story starting September 13, 2023, here. Submissions close on October 31, 2023.
GRRAND Wants to Visit You!
If you are associated with a school, small business, corporation, non-profit group, foundation, or other organization, we'd love to discuss an opportunity to visit and talk with your group about GRRAND. We will educate your group about what we do, some of our experiences, and animal welfare issues in our community.
Here's some additional information:
TIMING – We can visit during lunch break or other times at your request.
GRRAND SPEAKERS – We will provide a knowledgeable GRRAND volunteer and if requested, a rescued dog or two.
BENEFITS – Our well-trained, sociable dogs serve as petting relaxation therapy for everyday work stress.
CONTACT INFORMATION – Contact Pam for a visitation appointment.
For more information about our organization visit "Who We Are" on GRRAND's website.
Texas Roadhouse: Making a Paw-sitive Impact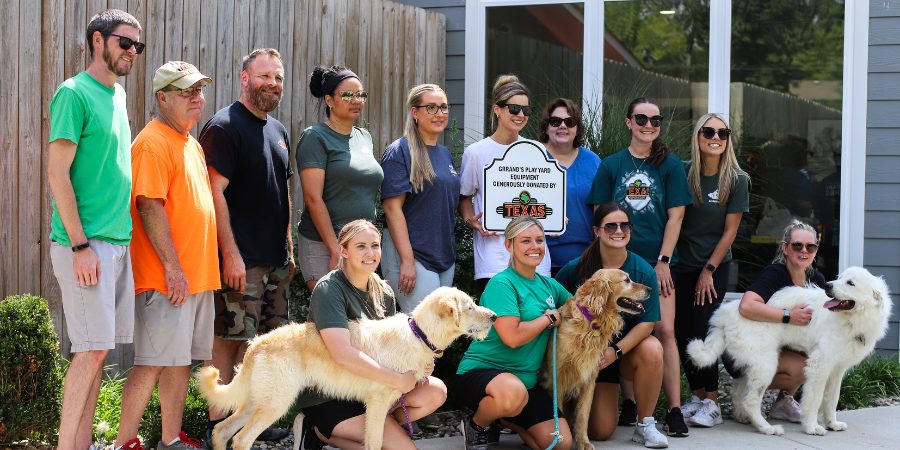 Since opening our new GRRAND Central Station in August 2021, Kennel Manager John Smith has dreamed of a place where GRRAND's unadopted dogs located at the kennel can have almost as much fun as fostered and/or adopted dogs. Thanks to the accounting department at the Texas Roadhouse Support Center, this dream has become a reality!
"The Texas Roadhouse accounting team kindly reached out to GRRAND to ask if we would like agility equipment for our dogs and also if they could visit the kennel to assemble the equipment," John said.
Each department at the Texas Roadhouse Support Center has their own community outreach budget, which allows them to choose from different non-profit organizations to whom they will donate their time and resources.
"We hope to leave a positive and long-lasting impact on organizations we are passionate about," said Rebecca Duff, staff accountant at the Texas Roadhouse Support Center. "Our founder, Kent Taylor, always put an emphasis on giving back to our community, so we want to carry on his legacy."
The team had a connection to GRRAND through Sarah Gregory, one of the managers in the accounting department. Sarah volunteers at the kennel, recently adopted a GRRAND pup, and is now fostering another GRRAND dog.
"When gathering feedback from the accounting department on where to focus our outreach efforts, supporting pet adoption and care facilities was a very popular choice," Sarah said. "Our outreach committee was familiar with my connection to GRRAND through conversation and my social media posts, so they naturally brought the idea to my attention…It was a perfect opportunity to initiate the partnership!"
On Friday, August 11, fifteen members of the Texas Roadhouse team showed up at GRRAND Central Station to deliver and assemble several pieces of play-yard agility equipment that they were donating to GRRAND, including hurdles, an agility tunnel, A-Frames, a see-saw, and a dog-walk.
"In partnership with GRRAND, we decided on these items to help the dogs at their facility not only find more enjoyment when they are outside, but also to help improve their mental and physical behaviors," said Rebecca.
The team also assembled two previously-donated Kuranda beds and even provided lunch for all teams involved.
So far, the kennel team reports that the dogs are loving the equipment.
"We are very excited and grateful for the opportunity to work with such an impactful adoption and rescue facility like GRRAND," Rebecca said. "We hope that our contribution to their program leaves a paw-sitive impact for years to come."
A plaque has been installed on the fence at GRRAND Central Station in thanks to the Texas Roadhouse team's wonderful contribution.
"It was an absolute pleasure to work with the Texas Roadhouse team on assembling the agility equipment they so kindly purchased for our GRRAND dogs," said John. "Not only did the team show up with wrenches and screwdrivers, but also a ton of treats, toys, and other useful kennel items. Our dogs love the equipment, which is a great way to keep them challenged and engaged while at the kennel. We so appreciate the Texas Roadhouse team."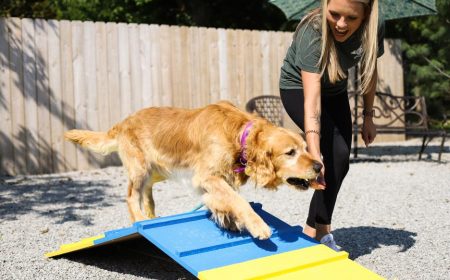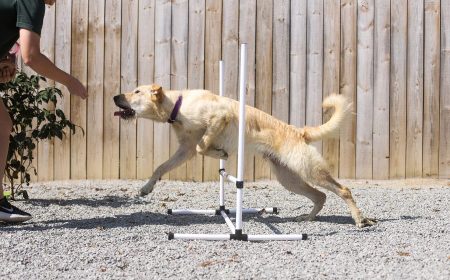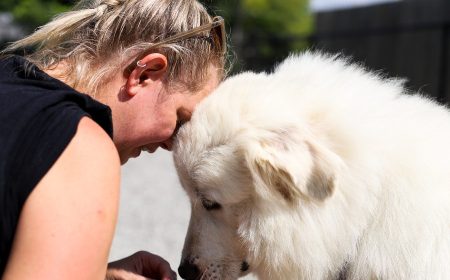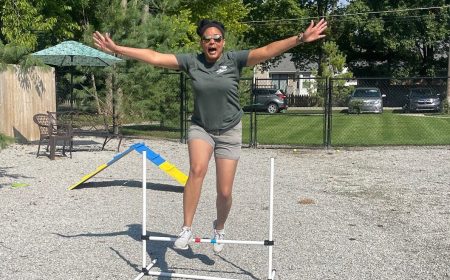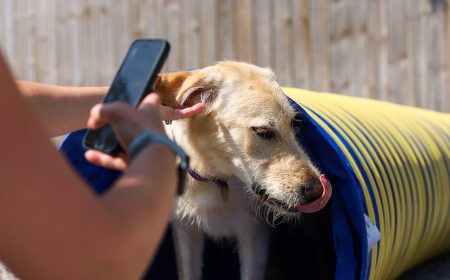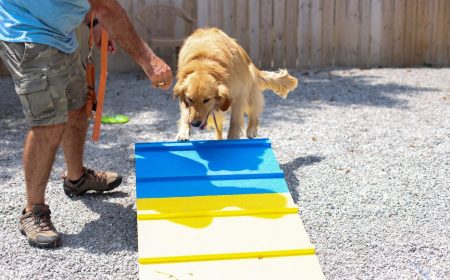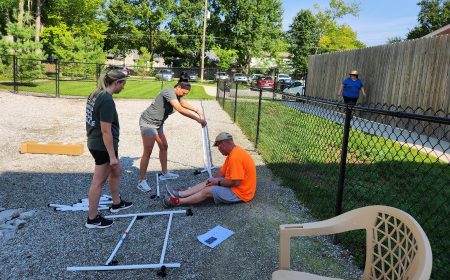 Spotlight: GRRAND's Socialization Team
Since GRRAND Central Station opened its doors, it has been home to several teams and operations that have kept our pups happy and healthy and our organization as a whole running smoothly, including grooming, vet care, training, and more. This month, we would like to highlight the great work being done at the kennel by our socialization team, which is managed by Alex and Emily Lee and includes more than 100 volunteers!
Each new volunteer joining the socialization team goes through a training developed by John Smith, Facility Coordinator at GRRAND Central Station. On average, the kennel will have around ten people per month who go through the training. Once they move past the training phase, volunteers will then start off as "green walkers," which means they work with the easy-going and friendly dogs.
"I call them walkers because I'm old school," John said.
After additional training and assessment, volunteers can become "yellow walkers," which means that they may work with dogs that are more difficult to control. These dogs may have a history of resource guarding or escaping. Examples include GRRAND dogs rescued from Amish puppy mills, who are often terrified of people.
Finally, the socialization team has a small group that have been approved as "red walkers," who take the most difficult dogs out, generally needing more work and care to socialize.
"In the time that I've been volunteering at the kennel, we have had several dogs who spent many, many months at the kennel," said volunteer Melissa Bauer. "These dogs are all ready to love and to be loved, but they need special homes with patient people who have the knowledge and experience to help them transition successfully into a forever home."
The socialization team at GRRAND not only socializes and exercises dogs, but also works with training the dogs to help them prepare for adoption.
"Training activities are important because they help mentally stimulate the dogs who spend long hours every day in their runs, and, hopefully, help improve the chance that our dogs will find their forever homes," Melissa said.
There are nine slots of time posted daily for volunteers to sign up for socialization time. Several volunteers on the team sign up for five days a week.
"Being hands-on with the dogs and seeing them transform in front of your eyes is the most rewarding thing," said volunteer Sarah Gregory. "It's more than just a 'kennel'…GRRAND helps these dogs thrive and I am so grateful to be a part of it."
Interested in joining the GRRAND socialization team? Click here to learn more.