GRRAND Tails Rest of the Story June 2023
Jump to the article you're looking for using the links below:
Q&A From Previous Newsletter
What to do when your dog is reactive to other dogs:
Question:  Jane M,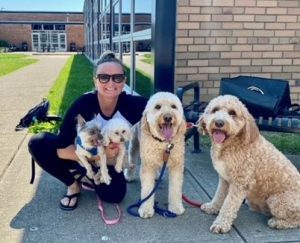 asks, "What is your #1 tip/strategy for working with dogs who are reactive to other dogs?"
Answer from trainer, Alicia Noschang:  Before starting to work with your dog's reactivity, start a foundation of basic obedience. This will be key in your relationship moving forward.
When you bring your dog outside to work with him in a new location, make sure your dog doesn't see another dogs right away. Typically the dog is already on high alert and overstimulated. When a dog is in a new environment, they can easily get overwhelmed; give them a chance to settle by sniffing the environment for about 10-15 minutes.
After 10-15 minutes of sniffing (mental stimulation), you can start work on basic obedience. When you feel you have their attention and focus, start your walk.
When you see another dog approaching, create space for your dog – this could be 10-15 feet from your walk, depending on what your dog needs. (If your dog doesn't look away from the other dog, you are too close. Move further away from the other dog.) Put your dog in a sit; the second your dog looks away from the other dog, you give a big reward.
1. For your first time out, go to a less populated area. (Not a dog park)
2.Make sure you have a good relationship in obedience.
3. Make sure you know your dog's threshold from another dog.
4. Reward the behavior you want.
5. Watch your dog's body language. Most of their language will be spoken through their ears, eyes, tail, body, and nose. 
Have-a-Heart Event Pictures
The Have-a Heart event, held on June 3rd, for GRRAND dog's rescued in 2022 was a grreat hit for the dogs and people as well. It was so much fun to talk with everyone about their dogs. The Marshmallow Toss and Hotdog Run was hilarious.
We hold this event every year. If you adopt a dog in 2023 watch for next year's announcement in Tails because you don't want to miss out on all the fun!
Enjoy some of the event pictures below.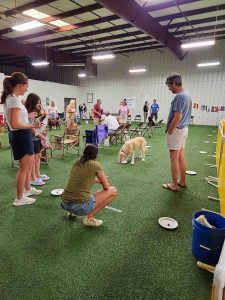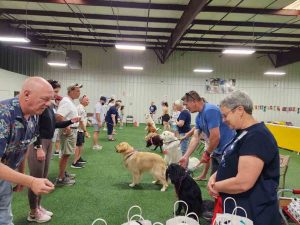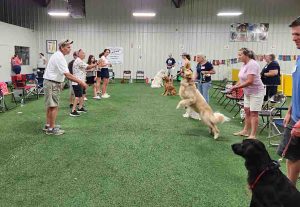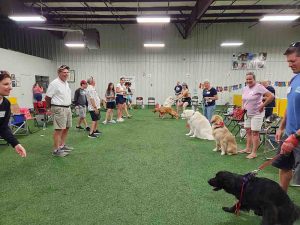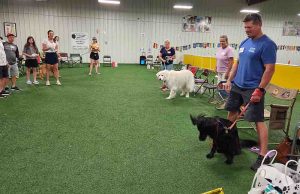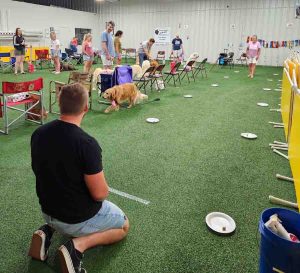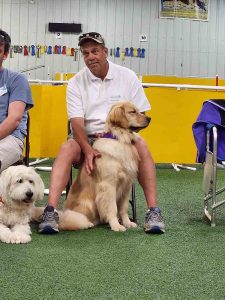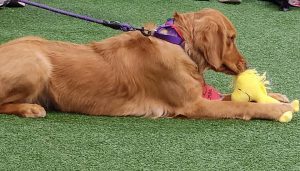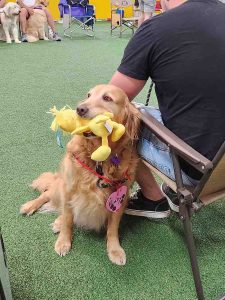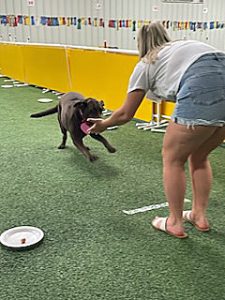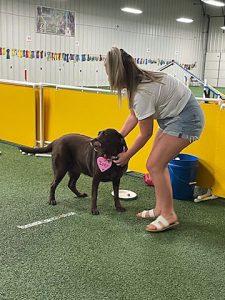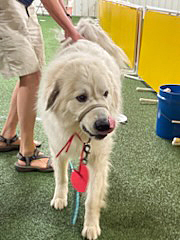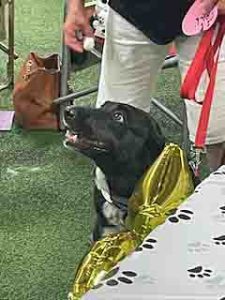 Trainer Spotlight & Volunteer of the Month - Sharon Gretsinger
"If I had to give just one piece of advice to people who are training dogs," said Sharon. "Training requires time, patience, consistency and a good humor. Training should ALWAYS be fun for both the dog and the owner."
Sharon Gretsinger, trainer and International Rescue Coordinator for GRRAND, owner of Pawsitively Professional Boarding and Training Kennels and GRRAND's Volunteer of the Month, recently shared some advice for dog training.
"Dogs are not vindictive. They don't pee or poo on the floor or chew on your shoes to get even with you," Sharon said. "When dogs are exhibiting inappropriate behavior, people often just blame the dog instead of themselves. It often is lack of exercise or the amount of time the owner actually spends working with their dog."
When asked about her favorite dog that she has trained over the years, Sharon named Brook, a black labrador retriever who was her first service dog in training.
"She was awesome but was released from the service dogs program for separation anxiety issues," said Sharon.
Sharon kept Brook and began volunteering with her in 1991, visiting hospitals, rehab centers and nursing homes in Atlanta, GA. Brook not only helped raise thousands of dollars in donations for service dog training, but she also served as a therapy dog for hundreds of people.
"She was instrumental in the journey we embarked on," said Sharon.
She added, "There have been so many wonderful dogs since Brook that I feel guilty for not mentioning all of them."
Sharon has always loved dogs and cannot imagine not having them in her life. In addition to the many dogs she works with on a daily basis, Sharon shares her home with five keeper dogs of her own.
I Found Love - Adoption and Fostering Stories
Happy Seegall and her family opened their hearts and adopted Bridger because they wanted a dog that wasn't "perfect" by most people's standards – but Bridger was perfect for them! Bridger had to have his back-left leg amputated, but nothing can stop him from living his best life. 
"I would describe Bridger as: goofy, playful, lovey-dovey, resilient, and most importantly very able. Bridger has taught us a lot, but one of the biggest impacts he has made on my life is my perspective on ability vs disability. He had my heart the second I saw that he was going to have to learn to live without a leg….but, honestly, Bridger does not care that he's a tripawd. He runs extremely fast, doesn't hesitate to get rowdy, and loves his walks. Honestly, the only thing he can't do is scratch behind his left ear! So, all that to say, I definitely changed my perspective on what 'ability' means and he's been monumental in that. He's only 3 now and I know as he ages, his mobility will change and we'll need to make modifications to accommodate his energetic lifestyle, but until then we're having a good 'ol time."
How was your experience with the adoption process?
"My experience with the adoption process at GRRAND was unbelievable. The entire experience from snoot to tail (so to speak) was incredible. Every volunteer was so good at their job and it was evident very early on that GRRAND was about finding the right home for each of their dogs…not only were they advocating for their GRRAND dogs, but they are also passionate about making sure their adopters are getting exactly what they need, too!"

Why would you encourage others to adopt from GRRAND?
"I would encourage anyone to adopt from GRRAND because it is a personal experience. The volunteers get to know the people, they already know the dogs, and they make these successful dog/human pairings that lead to lasting bonds."